South Carolina Motorcycle Laws & Regulations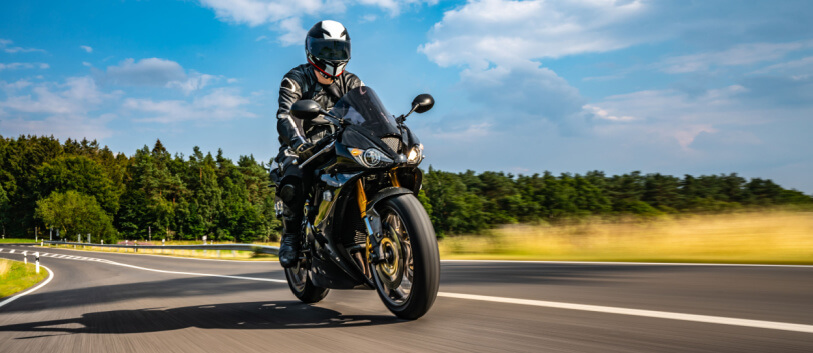 Nothing compares to the freedom of riding a motorcycle on South Carolina's open roads. However, with that freedom comes risk. Being in an accident can change your life instantly, leaving you with overwhelming physical pain compounded by unexpected financial difficulties.
Joe Cunningham is here to represent motorcycle accident victims like you and is passionate about fighting for the recovery you deserve. He is deeply familiar with motorcycle laws in South Carolina, and you can count on him to leverage his considerable resources and experience in your favor.
If you have been hurt in a motorcycle accident caused by someone else in South Carolina, you don't have to move forward alone. Make the most of Joe's "people-first" approach to his client's cases. Contact Joe Cunningham Law today for a free consultation to learn how we can help.
What Are Motorcyclists Required to Do in South Carolina?
Motorcyclists in South Carolina are subject to the same general rights and duties as drivers of other motor vehicles, barring any laws or regulations that would not apply to them by nature. However, there are also specific requirements for motorcyclists under South Carolina law, including the following:
Motorcyclists should only ride on the permanent and regular seats attached to their vehicles.
Motorcyclists may only carry passengers on bikes equipped with appropriate seats and footrests.
Motorcyclists must sit astride their seats, facing forward, with one leg on each side of the bike.
Motorcyclists may not carry any packages, bundles, or other articles that prevent them from keeping both hands on the handlebars.
Operators may not carry any person, nor can any person ride, in a position that could interfere with the rider's view or ability to control the motorcycle.
Motorcyclists may not attach themselves or their motorcycles to any other vehicles on roadways.
Must I Wear a Motorcycle Helmet in South Carolina?
Under South Carolina law, any person under 21 who is operating or riding on a two-wheeled motorized vehicle, such as a motorcycle, must wear a protective helmet. This helmet must be equipped with either a neck or chin strap and be reflective on both sides.
If you're 21 or older, wearing a helmet while riding a motorcycle in South Carolina is not legally mandatory. However, it is always recommended for safety reasons.
Are Motorcycle Passengers Required to Wear Helmets in South Carolina?
Under the law, motorcycle operators and passengers in South Carolina under 21 who ride on two-wheeled, motorized vehicles must wear a protective helmet. So, if a passenger is under 21, they must legally wear a helmet. For those 21 and over, wearing a helmet is highly recommended but not legally required.
If I Don't Wear a Helmet, Will It Affect My Motorcycle Accident Claim?
While South Carolina law only requires riders under 21 to wear a helmet, it's important to note that not wearing one could affect a motorcycle accident claim if you crash. In that case, the defense could argue that your failure to wear a helmet contributed to your injuries. The impact this has on your claim can vary, so it's wise to consult a Charleston, SC, motorcycle accident injury lawyer to understand how it could apply to your situation.
Is Lane-Splitting Legal in Charleston, SC?
No. "Lane-splitting" is a term for the practice of riding between two lanes of traffic on a motorcycle, which is prohibited under South Carolina law. According to state law:
Motorcycles are entitled to full use of a lane. This doesn't apply to motorcycles operated side by side in a single lane.
The motorcycle operator is not allowed to pass in the same lane occupied by the vehicle they are overtaking.
It's unlawful to operate a motorcycle between traffic lanes or adjacent rows of vehicles. This rule effectively prohibits lane-splitting.
Motorcyclists must not ride more than two side by side in a single lane.
What Are the Age Limits for Motorcycle Passengers?
South Carolina law does not specify a minimum age for passengers on motorcycles, meaning there is no motorcycle passenger age limit. However, specific equipment is required to carry a passenger safely, and there are rules for how the passenger should be positioned on the bike.
Motorcyclists must meet the following conditions to carry passengers on a motorcycle lawfully:
The motorcycle must have a seat large enough to accommodate both the rider and the passenger. The passenger should be seated behind the rider and as far forward as possible. Regardless of age, no passenger should sit in front of the rider.
The motorcycle must have footrests for the passenger.
The motorcycle should have a secure hand strap or solid handholds for the passenger to hold onto. Alternatively, the passenger can hold onto the rider's waist, hips, or belt.
Can a Child Ride on the Back of a Motorcycle?
Yes. There is no minimum legal age for a child to ride on the back of a motorcycle in South Carolina, so children can accompany adult riders as passengers. However, it's essential to make sure any child passenger is mature and physically capable enough to handle riding on a motorcycle.
Here are some factors to consider before taking a child for a motorcycle ride:
Physical Size and Strength – The child should be big enough to reach the footrests. The child also needs enough strength to hold on securely to either handholds or the driver.
Ability to Follow Instructions – The child should be able to understand and follow safety instructions, such as when to hold on and how to lean with the motorcycle when turning.
Emotional Maturity – Child passengers need emotional maturity to handle the ride. If a child is easily frightened or distracted, they might not be ready to ride as a passenger.
Legal Requirements on How to Get a Motorcycle License in South Carolina
In South Carolina, obtaining a motorcycle license or permit requires fulfilling all or several of the following conditions:
Meeting the Age Requirement to Drive a Motorcycle – The legal age for a motorcycle license is 15 years old.
Obtaining Parental Consent – If under 18, applicants must have consent from a licensed adult.
Providing Proof of Identity – Applicants must submit proof of name, age, and address.
Taking a Knowledge Test – To obtain a permit, applicants must pass a motorcycle knowledge test.
Passing a Vision Test – Applicants typically need to pass a vision test as well.
Taking a Skills Test – To upgrade from a permit to a license, applicants must pass a skills test. If an applicant already has a valid driver's license in a different class, they can attempt to pass the knowledge and skills test on the same day to avoid getting a permit first.
Taking a Driver Education Course – For applicants aged 15 or 16, passing a driver's education course is required before applying for a motorcycle license.
Equipment Required to Drive a Motorcycle in South Carolina
You must have the following pieces of equipment to ride a motorcycle lawfully in South Carolina:
A Rearview Mirror – Motorcycles must be equipped with rearview mirrors that provide operators with ample vision to the rear at all times.
Goggles or Face Shields (for Operators Under 21) – It is unlawful for any person under 21 to operate a motorcycle unless they wear appropriate goggles or a protective face shield.
A Windscreen (Optional) – The requirement to wear goggles or a face shield does not apply if the motorcycle is equipped with a windscreen that protects the rider's vision.
Footrests – Any motorcycle designed to carry one or more passengers, other than in a sidecar or enclosed cab, must be equipped with footrests for those passengers.
Rules for Registering and Insuring a Motorcycle in South Carolina
The rules for registering and insuring a motorcycle in South Carolina are as follows:
Registering a Motorcycle
You must register any newly purchased motorcycle within 45 days of the purchase date. If you purchase the vehicle through a dealer, they usually handle the registration process for you. If you purchase a motorcycle from an individual, you will need to register it yourself. You can do so by completing a title application and paying registration fees.
Insuring a Motorcycle
South Carolina law mandates certain minimum amounts of vehicle insurance coverage, including:
$25,000 per person and $50,000 per accident in bodily injury liability coverage
$25,000 per accident in property damage liability coverage
Uninsured motorist (UM) coverage equal to the minimum amount of liability coverage
Do Motorcycles Have to Pass a State Inspection in South Carolina?
No. Motorcycles in South Carolina are not required to pass a state inspection. While it's always a good idea to regularly maintain your motorcycle and ensure it's in good working order for safety reasons, there are no laws or requirements for South Carolina motorcycle owners to conduct periodic inspections.
What Are Some Common Causes of Motorcycle Accidents?
Motorcycle accidents can occur due to various contributing factors, such as:
Distracted driving
Reckless driving
Speeding
Following too closely
Improper turns
Inadequate surveillance
Driving under the influence
Driver fatigue
Driver inexperience
Poor vehicle maintenance
Defective vehicle design
Poor road conditions
How a Charleston, SC, Lawyer Can Help with Your Motorcycle Accident Case
A motorcycle accident lawyer in Charleston, SC, can help you with your injury case by:
Gathering important evidence related to the accident
Communicating and negotiating with the insurance companies on your behalf
Filing the necessary case paperwork and meeting all deadlines
Determining a fair and comprehensive claim value that encompasses all your losses
Representing your interests in court if your case goes to trial
Collaborating with medical professionals to understand the full extent of your injuries
Advising you on the best course of action to take at each stage of your case
Identifying all potential sources of liability and insurance coverage
Proving the fault and liability of the other parties involved in the accident
Advocating for your rights and interests in any settlement discussions
Challenging any low-ball settlement offers from insurance companies
Contact a Charleston, SC, Motorcycle Accident Law Firm Today
Joe Cunningham is ready to stand by your side and fight for your rights in a motorcycle accident lawsuit. Don't wait to get the help you deserve. Contact Joe Cunningham Law today for a free consultation.